Seaside
is located on the West Coast of Sacred Grove.
Seaside is on a beach, and you get to see the big ocean of Seaside. Seaside is the only town that is on the shores of Sacred Grove, and to get to it you go on a little path between the mountains to reach the famous sandy town.
Daily Life
Edit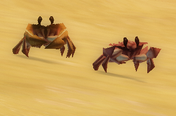 Usually in a beach town, you will see surfers riding the waves, and girls tanning. But here you see Robgoblins throwing firecrackers into the ocean to fish, and there is also the Boardwalk with many festivities. There is also Diggy's Dinner, and you get to see kites and get to make sand castles. You see bonfires, and volleyball nets with people from all over Sacred Grove having a good fun time. Across the way is big beautiful houses, and the Dozen Family, you will see the family kids all over Seaside, and behind their house is the Seaside Arch. When you look at it, you see the beautiful sunrise and sunset.
Residents
Edit

The mayor, is located at the Post Office, and mostly every type of species lives in Seaside, Human like wise, the only bad guys you will see is crabs, evil surfers, and ninjas that are in front of the big mysterious house that is like a ninja house, home to Kai a ninja master.
Community content is available under
CC-BY-SA
unless otherwise noted.