Pony Vale is a secret land in the mountains of Sunstone Valley and it's easy to get there. It was the last region added before Free Realms closed on March 31, 2014.
The Rainbow Bridges
Edit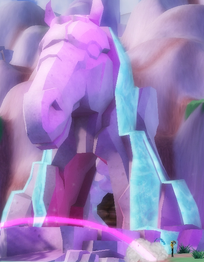 When you arrive there, your basically outside of FreeRealms, and the bridges there are rainbows with pretty clouds at the bottom. When you walk over them, they sparkle and it is the most beautiful thing you could see on FreeRealms.
The Pony Statue
Edit
The Pony Statue, also where the secret valley got it's name from, is the head itself. Beautiful waterfalls fall from both sides, and is just breath taking, and is problay the prettiest thing on FreeRealms, other then the World Tree. And in the Statue is a cave, where Warrior Cats usually live.
The Waterfall
Edit
It's not the biggest waterfall in FreeRealms, but it sure is one of the prettiest. When you see it you can see it all around, and is one of the prettiest things about the valley. And the water is crystal like and is pretty.
The Plants
Edit
In Pony Vale, the plants have different types of trees, and yellow flowers that glow like diamonds. And the grass is purple, so its like a whole other world and is the prettiest place on Free Realms.
Community content is available under
CC-BY-SA
unless otherwise noted.