Here on the Wiki is where we will dedicate this page to our friends on FreeRealms.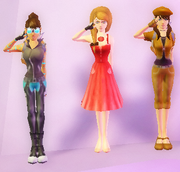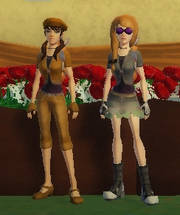 Cel's Friends
Edit
My best friends on FreeRealms through the years I've been playing.
Nisha - Is one of the coolest friends I know, she and I are BFFLs. She got me hooked to the Wiki too.
Šheik - She is my BFF, I've known her since April of 2012 and she's a really sweet and caring person. She also helped me get maxed sets on a lot of my jobs.
Ellen Collie aka Color - Is my friend and she and I have been pretty good friends for awhile.
Nisha's Friends
Edit
My friends on FreeRealms over the year has increased and decreased. I have a few best friends I will mention here. 
Celeste Merrymeadows - She is my sister in game and we always hang out and have fun. Cel is fun and out-going and when I'm down, she's there to save the day. We have alot of fun times and now, we made our own Wiki together to share ideas and make something of our own. And she has seen the way things have happened in my crazy family in game, and she's a pretty darnn good TCG player.
Peytonnn - I have known Peyton for about 2 years and she's like a sister to me. Even if we don't talk often as we used to, she is a good old friend of mine, and showed me that friendship can go through alot of hardships and survive.
Amanda Tinyprism - Amanda was my first friend, and we known each other since our noob days. She is my first sis and has been forever, and she is a crazy panda. She loves to put bamboo in my microwave and blow my kitchen up. So she is very crazy and funny. Also, she likes to stalk people with me. xD
Oliver Arrow - Previously Troy Silverheart, and Dan Skywave. He is my x-husband, but he is always there for me even though we been through hell. He is a good friend, and in the past has helped alot with the family, and did help found it. But the family is currently inactive.
Color - is a semi-good friend most of the time, she was once my mother, but really didn't catch on to be a "good" one, so she is just my friend now.
Mallory - Aka Ara, has been my friend for over a year, we got off to a rocky start, but now she is my friend.
Hyper and Ice - are sisters who are very insane, and get ticked off easily, and who currpted me XD, we fight when I bring drama to them by misake, and all hell breaks loose :).
Community content is available under
CC-BY-SA
unless otherwise noted.